Angela Glover Blackwell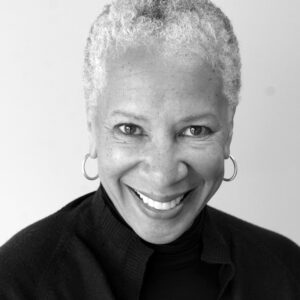 Founder in Residence,
PolicyLink
"We all have come to realize that we're not going to make change incrementally. It has to be transformative. So, unleash and catch onto the tail of your radical imagination and let that take you into the future that we need. Fund radical imaginations all across the country for sustainable transformative change." – Angela Glover Blackwell
What is the significance of the California Black Freedom Fund in this moment and in shaping a racially just California?
The California Black Freedom Fund is an enlightened idea to truly fuel a transformative movement. This is the place in which you invest in Black leadership and organizations that really understand how thoughtful we have to be to transform this moment into a future we want to create. The only way that that's going to happen is if we get enough resources invested in those who know what needs to be done, who are accountable to the people who were most oppressed and are committed to a multiplicity of viewpoints, needs and aspirations being reflected in the struggle. The California Black Freedom Fund is absolutely designed to do that.
Why is it critical for philanthropy to fund Black organizing led by grassroots advocates and community leaders? What have been some of the key gaps?
One thing that the movement has done that's been so important is to center Blackness. This has come out of the Black Lives Matter movement and, most recently, the murder of George Floyd. His murder was just one in a long string of murders of Black men by the police, but one that more people than usual viewed because we were home under lockdown due to the pandemic. COVID has really brought into light how the injustices of the nation had placed some people at extreme vulnerability — it really made it so clear that racism was not just something that people were carrying in their hearts and this nation, but that it was built into every system of our country. It's not just race, not just people of color, but anti-Blackness front and center and something that was embedded in the DNA of the nation.
And, if we all agree with that statement, then the only kind of movement that we must have is one in which leaders and organizations take advantage of this moment. We need to support Black leaders who can tell the history of how we got here, and put forward the best policy ideas for the future by being connected to grassroots efforts and the lives of the everyday people who have been brutalized, oppressed, discriminated against, isolated and marginalized. If you're not connected to that truth, to that spirit, to that need to that wisdom, you are not authentic.
Tell us what Black power-building means to you. Why is it so important in California?
The oppression that Black people are experiencing is a way to keep democracy in the hands of a few. We have to have an analysis that understands that the suffering that is happening in the Black community is not unique — it is happening in the Latinx community, in the transgender community, in the Indigenous community — and being able to understand how the systems of oppression interreact and interrelate is important for us to build power, resources, capacity, and our leaders. That power means you have to understand it all, and connect it all. You have to know that this is everybody's fight. Power comes when you understand that you're not just trying to make it better for a small corner of the nation, but acknowledging this is our nation: it's our power, our future, our nation.
California has a special role to play at this moment. As the nation is rushing into becoming one in which the majority of people will be people of color by 2044, California has already been there for decades. So, if California can develop an economy, society and a culture that can thrive in the context of difference, and is committed to becoming anti-racist and centers Blackness to get rid of oppression, not only will our state thrive, but it will show the nation, and the world, how to really operate in the context of difference in diversity and multiplicity. The California Black Freedom Fund is the beginning of how you begin to make the investment to unleash all that positivity.
What is your call to action for philanthropy?
What we have lacked in terms of organizations led by Black people is not only visibility, but a sophisticated infrastructure of communication and policy advocacy that is so needed for change to happen. And, what we really have been lacking is an understanding that you make change because you use power in ways that are effective to make change. Philanthropy needs to understand that the only way to build a fully inclusive nation is by investing in, celebrating and connecting Black power. We have to build and connect the power that we have. That means we have to invest in the infrastructure and the ecosystem that allows the power that we have to be leveraged to make real change.
It is essential for the nation to have real representation coming from the people who have been most oppressed and marginalized in society. Most Black organizations exist on a shoestring budget. While they are well-known in their communities, they have not had the resources or the reach to be able to do what they see needs to happen, or to be known as far as they need to be known, to be able to have the influence that they should have for funding. Black organizations are often an afterthought, and, when they are lucky enough to get funding, it is because there is an enlightened Black executive of a community foundation or corporation that really is trying to do something different with their philanthropy. It is a big deal to have philanthropy pooling its resources to say, "how do we go to the communities that are marginalized? How do we find leaders who are operating there with real connections, to the people in those communities to be able to make and sustain change?" That is important.
We all have come to realize that we're not going to make change incrementally. It has to be transformative. So unleash and catch onto the tail of your radical imagination and let that take you into the future that we need. Fund radical imaginations all across the country for sustainable transformative change.
What is most important to you as an advocate and a leader?
This notion of connecting the struggle for justice to community was born out of my childhood. And as an advocate, I have been sustained by the progress that I have seen, the people that I have met, and the learning that I have done to understand how societies can work in such unjust ways, even when there are so many good people in this society. It has been an important learning experience as I, and so many others, work to create a system that is as good as the values that we try to personally hold onto.
We have got to figure out how to tell that story — to go back and look at the history — to understand that this hierarchy of human value really got embedded in slavery. We have to understand anti-Blackness in its fullness. We must center the Black experience as part of the guide to help us become anti-racist and understand that, while all oppressed people are impacted by this anti-Blackness, they have their individual journeys as well. One of the things that is most exciting about this moment is that people are starting to understand that the nation is permanently stained — that it has developed an oppressive system to isolate and marginalize Black people. It is not until we address it that we can create the possibility for liberation.