Kaci Patterson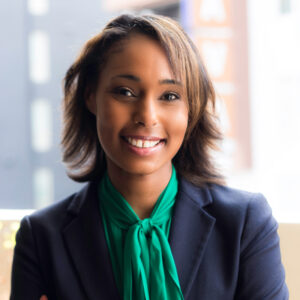 Chief Architect,
Black Equity Collective
"If we are ever going to really fully deliver on the promise of California as the golden state, it means that Black people and Black communities have to be at the forefront of that change. We have to center their experiences, the life wisdom of Black people who know what it's like to be marginalized and who can actually take us to the promised land." – Kaci Patterson
What is the significance of the California Black Freedom Fund in this moment, and in shaping a racially just California?
California has a reputation for being reliably progressive and blue, so to speak. What comes with that perception, and sometimes a misconception, is how progressive we really are as a state. If you really look at the outcomes that Black people experience in California, you realize that we have a long way to go. The fact that we have not yet centered a Black power-building movement structure in California really says a lot about the state of our progressiveness. There are three million Black people here in California, and we still haven't come into our full humanity from a structural and systemic perspective. That requires grassroots power-building with Black people at the forefront of driving change and realizing the full promise of this golden state. The fact that the California Black Freedom Fund has come to fruition at an inflection point across the nation around race relations means that we actually get to finally make sure that California gets this right. The primary role of the fund is about healing the harm and the injustice that oftentimes has been delivered to Black people, which includes philanthropy. The California Black Freedom Fund provides a vehicle for funders to truly put a down payment on the work of power-building from a Black-centered perspective.
What makes the California Black Freedom Fund unique is that it is the first of its kind. It really is an effort to resource Black leaders who have been doing so much with so little for so long. It's an opportunity for us to finally right the wrongs here in California.
Why is it critical for philanthropy to fund grassroots advocates and community leaders, especially Black leaders? What have been some of the key gaps?
We've had data for a really long time about the disinvestment in Black communities and in Black-led nonprofit organizations. This shows that there is historic, structural and systemic under-and disinvestment in Black-led organizations, oftentimes the same organizations that are on the frontlines of systemic crises, serve as community healers, and drive of social and political change. There is no way we can ever achieve the full promise of equity and liberation without Black people leading the charge. We must resource the work in a way that is meaningful — in a way that thinks about long-term sustainability, recognizes and honors the leadership of Black people and Black-led organizations working in communities. Yet, for far too long, they have been under-resourced.
What is your call to philanthropy and other donors? Why should they get involved?
As funders, we have an awesome responsibility to love humanity. That is the very definition of philanthropy. If we're honest, we haven't done a very good job with loving the Black community. Getting involved with this fund means that funders actually get to step up to our promise and deliver on their impact in a more meaningful way. Funders should be involved because their liberation is tied up in the liberation of Black people. They should get involved because it's just the right thing to do. They should get involved because, for far too long, too many funders have been on the sidelines of structural and systemic racism, and none of us can afford to sit it out anymore. If we are ever going to really fully deliver on the promise of California as the golden state, it means that Black people and Black communities have to be at the forefront of that change. We have to center their experiences, the life wisdom of Black people who know what it's like to be marginalized and who can actually take us to the promised land. Getting involved is more than benevolence — it's an act of faith, an act of purpose, and an act of duty.
Now is the time to get off the sidelines. We have the data and the information. What we need now is the will to act and the stamina to stay in the race when the fight gets tough. The California Black Freedom Fund provides a vehicle and an opportunity for funders to build their stamina for racial justice.
What does success look like to you?
The California Black Freedom Fund is a down payment on a much longer vision and investment effort. Success to me is accomplishing the true mission of our humanity, which is to make sure that every person — every Black person, mother, father, child — feels that they can live in this country without threat to their existence. This is far more than a five-year commitment. My hope is that these first five years really become the runway so that we can build, institutionalize and sustain a long-term investment in Black movement-building over the next generation or two.